Renovation Questions with Neil 1.0
March 6, 2019 | written by Lindsey
We have the privilege of speaking with people about their renovation dreams all of the time. Although each conversation is unique to the home and client, there are some renovation questions that most everyone is wondering before they take the next steps.
We asked Neil (our general manager who has more than 20 years experience in the renovation biz) to answer a few of the most commonly asked questions by our prospective renovation clients.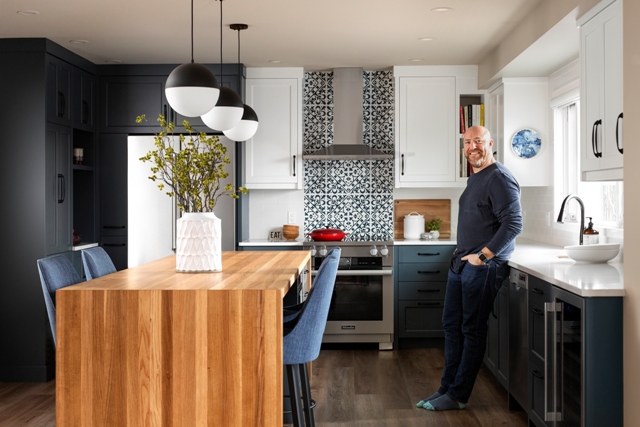 Q: Why does it take so long during the "planning phase" of a renovation?
A: Thorough planning up front saves time, money, and delays down the road. We meet with clients to understand their needs, their budget, and how we can help them make their homes work better for their lifestyle. During the planning phase, we measure and draw the spaces to provide our clients with the best possible space planning options. Our design team researches and specifies each fixture, finish, and piece of hardware that will be used. We also create a detailed scope of work which is basically a giant "to-do list" along with a project schedule. Each trade knows exactly what their role is in order to bring the concept to reality. This takes time and serious attention to detail, but it is worth it! Carefully considering each decision will ensure that the end results will surpass our clients' expectations and produce something they will love for years to come.
Q:  In making renovation decisions, when do I prioritize future resale vs. my own preferences and lifestyle?
A:  This will be different for everyone. You want to carefully weigh the pros and cons of your situation and ask yourself some questions:
How much longer do I plan to stay in my home?
Do I love my neighborhood and the lifestyle it provides me & my family?
Am I renovating for resale, or so I can live in and more fully enjoy my house?
Will a renovation actually raise the value of my property?
For example, my family recently moved back to a smaller house. It was a carefully considered move, and with some renovations to the home it completely suits our current circumstances. One could argue that we have over-invested in the small home, but we wanted to be comfortable and enjoy our space for the planned duration of us living there. For us, it made sense to put money into renovations.
Once you decide how long you plan to live in your home, you can better assess the amount you are comfortable investing. Decide how much you want to spend, and divide it by the number of months or years you plan to stay. Is that figure worth the comfort, increased efficiency, better organization, and improved aesthetic that you and your family will enjoy each day? (Not to mention the increased value that you will eventually see if/when you decide to sell).
Q: What areas of a home will produce the biggest return on investment if they are renovated?
A: I feel there are two different types of investing in your home; investing to maintain the value, and investing to increase the value of your home.
When you go to sell your home, all of the things you were supposed be doing over the years to maintain the value of your house become painfully obvious. Regular work to maintain the value of your home is often overlooked. These small but important projects will help you avoid a larger single investment later, and maintain the highest value of your home – for example: window replacements or painting.
If you are looking to increase the value of your home, consider the following renovations:
Ensuite and Bathrooms – reworking a dated floor plan or just replacing fixtures to keep bathrooms up to date & efficient will always give you a return on your investment.
Kitchen – a kitchen renovation can make a significant difference in the value of your home. Keeping the heart of the home current will fetch you a higher price when it comes to selling, and in the meantime, you benefit from the improved function and aesthetic.
Exterior and Landscaping – in addition to the increase of value to your own home, you will also bring increased value to the neighborhood at large. Having a clean and well positioned exterior will eventually make your house easier to sell, as first impressions are so very important.
Basement development – keep it simple or blow it out. This renovation is more about lifestyle. Basement renovations likely offer the least valuable financial return, but have a large impact on how you can use your home in terms of entertaining, working, playing, or offering guests a comfortable place to stay.
In the coming weeks we will be sharing a few more questions and answers from Neil, but in the meantime, is there something you are curious about as you consider your own renovations? If so, please feel free to send your questions here. We'd love to hear from you!
Subscribe Via Email
Want to be a part of our inner dialog? Subscribe today and never miss a post or update.
This error message is only visible to WordPress admins
Error: No connected account.
Please go to the Instagram Feed settings page to connect an account.