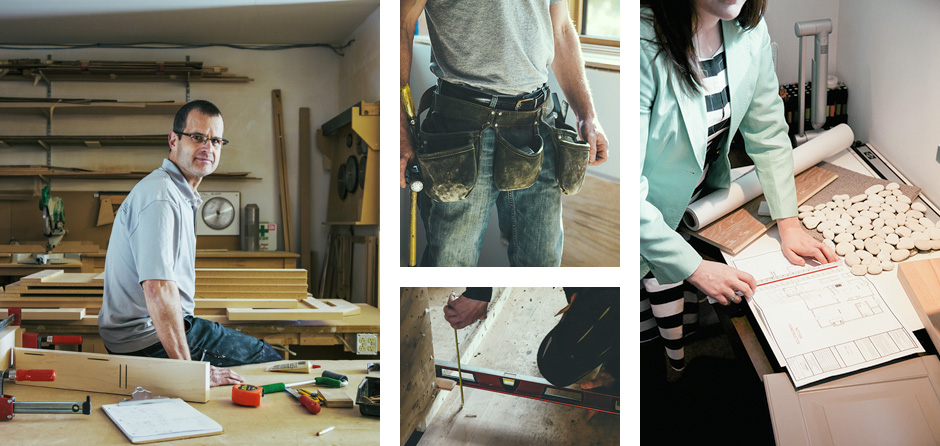 How can we help you?
We are LD&A, a family-owned design-build company that has been operating with excellence in Calgary's construction and design industry since 1988. After being known as Lynn Donaldson & Associates for 29 years, we have transitioned our company name to LD&A. Same remarkable team, same outstanding services, just easier to say!
Our in-house team of designers, carpenters, custom cabinet-makers, and project managers come together on every project to produce innovative renovations that fit your style, budget, and home.
We use our collective experience and creativity to plan and execute your renovation project from concept to completion. We rely on honest and effective communication to build relationships with our clients – relationships based on trust and confidence. When you work with us, you join our team. We are committed to providing you with our award-winning expertise; every member of our team takes pride in each and every project.
At LD&A, we continue to learn and grow by pursuing educational opportunities within our industry – we make sure you have the strongest information to make deliberate and informed decisions. From space planning layouts and finish selections to installing custom furniture and draperies, we have the resources to offer the most functional and attractive options to suit your lifestyle.
Our team helps you navigate the sometimes overwhelming renovation and design process using the skills gained from our collective experience, while maintaining a welcome sense of humor and humanity. Big changes bring excitement, satisfaction, and their share of challenges. It is our job to make the process as smooth as possible for you. We have been in your shoes, and we will be there to walk through your project with you every step of the way.
There's no place like home.
We are here to ensure that at the end of your project, there's no place in the world you'd rather be.
Our Team
Daryl
Construction Supervisor
I've been working with LD&A since 2001.
When I'm not at work, I'm at the gym.
Loved travelling Australia, really wish I could've brought my cat Bailey.
I'm passionate about rugby - I've been playing for 20 years and coach a kid's team as well.
If I could be a superhero, it would be The Incredible Hulk. DB SMASH!
Kate
Project Coordinator
I've been working with LD&A since 2003.
As a child, when I grew up I wanted to be an Interior Designer, an artist... or a DJ!
Outside of work, my favourite things to do include fitness activities (sports, running, "Ripped" class, "Insanity") trying food of all kinds... and napping.
Even though I grew up without power or running water, I cannot live without lip gloss.
Forget superheroes, I'd like to be Daenerys Targaryen - The Dragon Queen!
Kim
Interior Decorator
I'm currently on maternity leave.
If I could be a superhero it would be Black Widow - I wear A LOT of black...
Outside of work I enjoy skiing, crafting & lazing in the sun!
Born & bred in Calgary...this place will always be my home!
I love a good homemade pizza - no mushrooms please!
Lindsey
Interior Designer / Design Manager
I've been working with LD&A since 2008
Outside of work I enjoy gardening, hiking and working on projects around the house.
I loved travelling Japan, and I can fold a fitted sheet like a ninja.
I am a bit of a reality TV show junkie.
I dream of the day I can live a simple life on a farm with my husband.
Lynn
President
Principal Designer
I've been with LD&A since the beginning in 1988.
As a child, I aspired to be a veterinarian.
I'm blessed with 1 horse, 2 sons, a wonderful husband John, a multitude of great friends, amazing staff and... my granddaughter!
When it comes to movies, I love the old classics - especially Rogers & Hammerstein musicals.
I'm passionate about fun, family, friends, faith, design, food, finances, nature, horses, golf - everything!
Neil
General Manager
I've been working with LD&A since 1999.
I love Mexican, specifically burritos. Hold the brussels sprouts.
If I could be a superhero, I'd be Bill Nye.
I've come a long way from my first job as a hotdog cook at Cannons' games.
No one would suspect that I've got moves like Jagger.
Peter
Senior Site Lead
I've been working with LD&A since 2008.
As a kid, when I grew up I wanted to be an astronaut or a dentist. Even better, a space dentist.
Aside from working, my other favourite things to do are riding my dirt bike, playing hockey, football, running, pubs.
Love - mom's home cooked wiener schnitzel. Don't love - anything with black olives or mushrooms.
If I could be a superhero, I'd be Wolverine.
Sean
Site Lead
I've been working with LD&A since 2014.
I can't think of a time when I didn't want to be a carpenter!
Golf and soccer may be my favourite, but I enjoy playing all sports.
My favourite place to travel is Cuba.... all inclusive!
I love adventuring outdoors, but I am also a huge movie buff!
Tobias
Master Cabinetmaker
I've been working with LD&A since 2010.
When I'm not making cabinets, I like to be biking or hiking.
I blessed the rains down in Africa, which is my favourite of all the places I've travelled.
My wife and I have 2 kids and I could not live without my family.
I'm passionate about health and the environment. And homemade pasta.
Travis
Site Lead
I've been working with LD&A since 2012.
I'm passionate about carpentry.
My favourite place that I've travelled is Guatemala.
Away from work I like playing football, watching sports and I'm secretly gifted at Madden on Xbox.
I love Back to the Future almost as much as I love my hermit crab and my dog.
Tyler
Site Supervisor / Carpenter
I've been working with LD&A since 2016.
As a child, I always wanted to be a photographer, journalist or musician when I grew up.
Outside of work, I love to spend time with my family and build guitars.
I love pasta, but I hate liver.
No one would ever expect that I'm a certified Yoga Instructor.